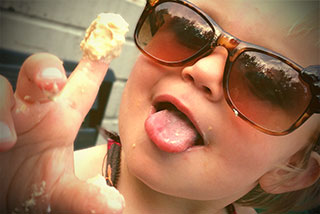 Often mothers are eager and enthusiastic to start giving their babies food other than breast milk or formula. When to wean depends on the individual baby, but as they reach four-six months your little one will be sitting up, or trying to, and will be ready to start eating 'real' food. It's a really important step in their development, and it can be great fun to explore new flavours and textures together.
When it is time to wean your baby the question new mums ask is "what food do I wean my baby with?"
There are two different ways to approach weaning:
Making puréed fruits and vegetables and spooning them into your baby's mouth
Blending soft fruits and vegetable in a blender or mashing them with a potato masher, so that they can easily be spoon-fed to your baby. This is about getting the hang of eating and swallowing from a spoon.
or
Putting small pieces of food in front of your baby and letting them feed themselves. At first, most of the food will end up on the floor (or elsewhere), but slowly your child will figure out how to get the food in their mouth. All that baby-led weaning technically "requires" is a washable high chair and a high tolerance for mess. No blenders, no baby spoons, no plastic plates.
Whichever way you decide to do it (you may decide to swap between the two) here is a list of foods that are easy on your baby's little tummy and make a great weaning option:
Cereals
Rice and Oatmeal cereals are the least of the allergenic grains and thus most babies are started out with those cereals. You don't have to start with cereal -Â you could try avocado instead or banana.
Fruits
May be served raw after 8 months old or earlier if the fruits are soft and your baby does not have digestion troubles -Â bananas and avocados do not need to be cooked before you give them to your baby.
Veggies
Always serve cooked until after 12 months old or when baby can chew well enough so that they do not choke.
Dairy
Breast milk and formula can still be given to you baby whilst weaning, they may still like the comfort that is brings or it can be used when you don't have time for a proper meal. Do not replace breast milk or formula with cows until after 12 months of age -Â serious health risks are possible. Never give a child under the age of 2yrs old low fat or skim milk products; whole milk is necessary.
Water
Remember your baby was only on breastfeed or formula for the first few months, now that you have introduced other food items, water is a necessity. It will help keep your baby hydrated, clean the systems and aid digestion too.
When you do start weaning remember there will be mess, have the bibs at the ready and with the Knuma Connect, which has just been awarded 5 stars by project baby magazine, cleaning up is easy with our easy to clean hardwearing surfaces, making your life easier.
There are numerous sites that can help answer many questions when it comes to weaning your little one for example:Â NHS. Many, suc
h as this Cow & Gate blog will help you put together a plan for your baby and suggest recipes you might like to try.
All this may lead you to ask, 'What's the best highchair for baby weaning?'. We've talked a lot in our recent blogs of the benefits of the multifunctional Knuma Connect 4-in-1 highchair and how it can be an integral part of your journey from your baby's first taste of solids when weaning your baby, all the way through to your child sitting at their own table and chair to feeding themselves. And certainly, for important factors such as durability, ease of cleaning, flexibility and of course, comfort, you'll find the Connect highchair comes up trumps.
Happy mealtimes!
If you need further help and advice speak to a health professional.
Source:Â Wholesome Baby Food